| | |
| --- | --- |
| TOP FREE BETTING COMPETITIONS | JACKPOT |
| 1. SKY SPORTS SUPER 6 | £250,000 |
| 2. ITV 7 PICK 7 | £100,000 |
| 3. FOOTIE 5 BY THE POOLS | £25,000 |
| 4. SKY SPORTS SELECTOR | £1,000 |
| 5. BETFAIR BEAT THE DROP | £1000 |
| 6. PADDY POWER BEAT THE DROP | £1000 |
| 7. CORAL CORRECT 4 | £50 |
Member Vs Member Sports Betting Site
Casino
Bonus
Visit

Bet Against Other Members Platform

Credit Card Use For UK Players

There are several places that offer Pick seven bets online for free, below we are going to take a look at all of them, and also no deposit casino offers, where players can play with free money and be in with the chance of winning real money!
Pick 7 Itv7 Free Competition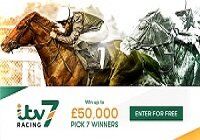 The most popular choice among the Pick Seven free bets is ITV7's free to enter competition. Simply select seven horses from the chosen race cards, and hope they all come in. If you are a fan of UK horse racing then this really is a no-brainer. You are simply getting an accumulator bet for free.
Prizes in this free competition range from £1000 all the way up to an impressive £50,000. Not a bad choice when you have nothing to lose!

Sky Sports Selector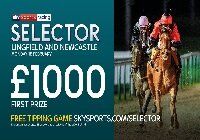 Sky Bet has a great Pick 7 themed free betting offer know as "Selector". Basically exactly the same as ITV7, but not quite as popular. Sticking to the same theme the player must correctly choose 7 winning horses out of certain races selected by Sky Sports. Give it a go and see for yourself.
Prize money starts at £1000 and rolls over if not won. With one prize pot getting to a whopping £58,000 before it was won!

Sky Sports Super 6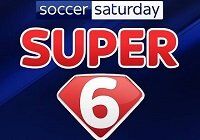 Sky Sports Super 6 takes place every Saturday and is slightly different form other Pick 7 free betting competitions. Firstly you only have to decide upon six outcomes and secondly this is a football based free bet offered by Sky Bet. And lastly it is an extremely popular game, way more popular than ITV7!
Super 6 by Sky Sports gives players a chance to win £250,000 every Saturday for nothing other than placing a free bet!

Footie 5 By ThePools.com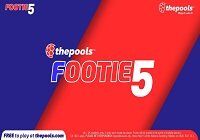 Footie5 is a great new game by Thepools.com, and with only five selections to pick this makes this game more probable to win than ITV pick 7 or Sky Sports Super 6. Playing and registration is straight forward. Simply sign up and select five different outcomes on the given games. That's it!
Thepools.com Footie 5 gives players the chance to win £25,000 absolutely free. You couldn't ask for more!

Paddy Power Beat The Drop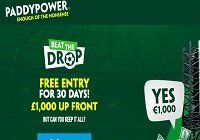 Paddy Powers Beat The Drop is an exciting take on the well know quiz show Million Pound Drop. But what is best of all, is Paddy Power are giving all their new customers £1000 to start playing this great new game. So why not head over to Paddy Power and register. There is nothing to lose!
The free game you get to win your free £1000. For the paid version of beat the drop you could win £1m!

Betfair Beat The Drop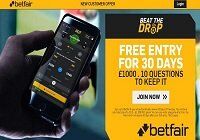 Betfair Beat The Drop is unsurprisingly just the same as Paddy Powers Beat The Drop games. Betfair are giving all new customers £1000 to play their Beat The Drop game absolutely free. Just like Paddy Power you have nothing but time to lose playing this great free game!
Playing for free you are in with the chance of keeping your original free £1000 if you win!

Sports Betting Against Other Members Site
Casino
Bonus
Visit

Bet Against Other Members Platform

Credit Card Use For UK Players

ITV7 Pick 7 Similar Competitions
So as you can see there are many other options than the ITV7 competition. All of which are free to enter and will never cost you a single penny. However a lot of people who play these competitions also like to have a flutter on their selections. Yes it would be great if all your selected horses or football teams came in on the Pick 7 competition, be it Sky Selector, Super 6 or Footie5.
However just by staking £1 on all your selections, you could be in for a serious win if played as an accumulator. This is why we have listed a selection of the UK's finest bookmakers. Each and every one coming with great free bet offers and other amazing bonuses.
UKGC Self-Exclusion – Gamstop UK
All of the above mentioned online casinos come with Gamstop self-exclusion software. This enabled residents of the UK to automatically self-exclude from all UK Gambling Commission regulated websites simply by signing up. Users of Gamstop can choose to self-exclude for six months, one year or five years. Think carefully before you use Gamstop as this will also block you from taking part in any free competitions such as ITV7 Pick 7, Sky Sports Super 6 and all others mentioned on our website.
You can find more information on our website about Gamstop self-exclusion and ways to get around it. These include non Gamstop casinos and not Gamstop betting sites which are not registered in the United Kingdom.
Frequently Asked Questions
🎯What Is Pick 7?
Pick 7 is a completely free betting competition that runs daily at several places including ITV7 and SkyBet. The copetition is easy to take part in. All a player must do is select 7 horses that they believe will win the seven given horse races. It really is that simple.
🎯What Is ITV7?
ITV7 is a free to enter horse racing competition. Simply select seven horses for a chance to win the jackpot. The co,petition is held several days of the week which include Monday, Wednesday and Saturday
🎯Is ITV7 Free?
Yes ITV7 is a completely free to enter horse betting competion that runs throughout the week. There will be never any need to make a deposit when you register or withdraw any winnings if you are lucky enough to win. This is what is known as a no deposit needed competition.
🎯How Do You Play Pick 7?
First register at ITV7 and Skybet. Then simply select 7 horses that you think will win from the given races. If all your horse come first, then you will win the jackpot. The jackpot is split between other players if their are multiple winners that all select seven winning horses. This would be likely if all the horses that won were favourites / second favourites.
| Bookmaker | Free Bet | Visit Now |
| --- | --- | --- |
| | Risk Free £20 Exchange Bet At Betfair | Visit Now |
| "New customers only, bet up to £20 on the Exchange and if your first bet loses, we'll refund you £20 in Cash. Bet must be placed in first 7 days of account opening. T&Cs apply." | | |
Casinos Accepting Credit Cards
Free Spins No Deposit Required